Hopefully Valve will allow this as a option in SteamVR but if they don't there is a relatively easy way to add feet (or other limb tracking) to SteamVR without needing to buy trackers (you will however need a SteamVR dongle, or reflashed Steam controller dongle).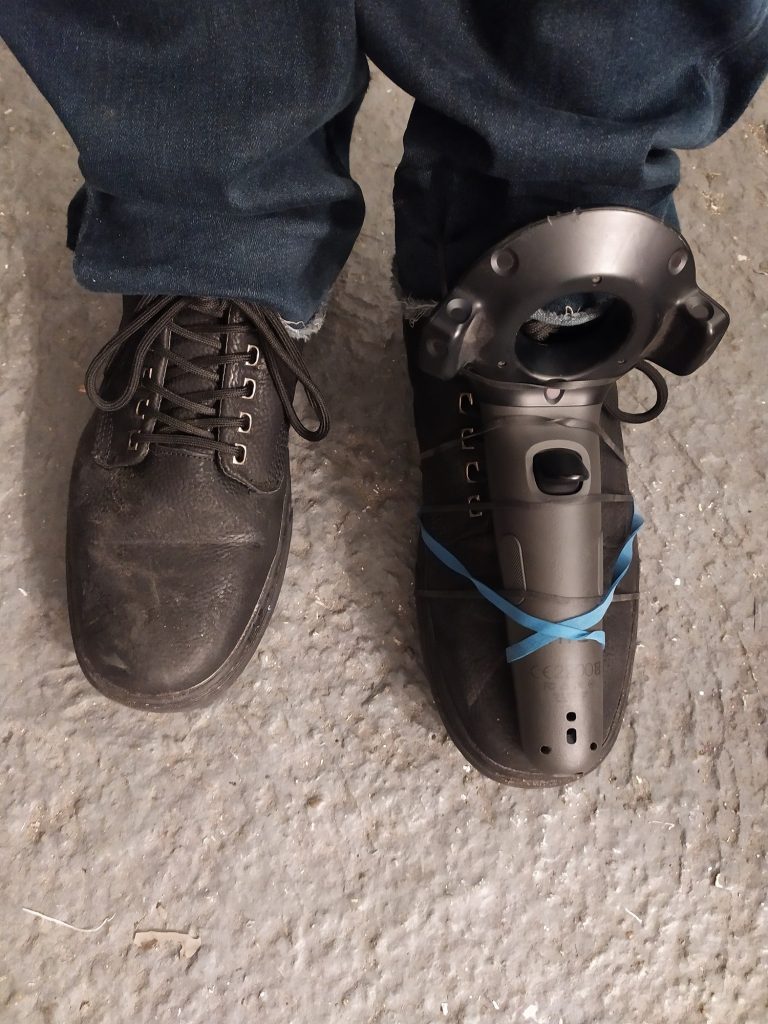 Thanks to ragesaq for his guide on turning a tracker into a controller here which this guide is based on.
Step 1: Turn off SteamVR, disconnect your headset or other SteamVR devices so the lighthouse configuration management tool only sees the device in question.
Step 2: Launch steamVR, turn your controller back on and plug it into your computer with a USB cable.
Step 3: Run the lighthouse_console.exe application that is found in C:\Program Files(x86)\Steam\steamapps\common\SteamVR\tools\ lighthouse\bin\win64\
you should see the controller serial number listed in the console.
Step 4: type in "downloadconfig", this will create a json file in the lighthouse_console.exe folder that contains the config of that specific controller. Back it up before proceeding, save it as LHR-XXXXXX.json.original or something like that.
Step 5: Edit the json file and change the line
"device_class": "controller",
to
"device_class": "generic-tracker",
Now, near the bottom change
"model_number": "Vive. Controller MV",
"render_model": "vr_controller_vive_1_5",
"revision": 1,
to
"model_name": "Vive Tracker PVT",
"render_model": "vr_tracker_vive_1_0",
"revision": 1,
"tracked_controller_role": "",
Then save the file.
Step 6: Upload the file back to the controller type in "uploadconfig LHR-XXXXXX.json" where XXXXXX is the serial number of the controller that is listed in the file name.
Step 7: Type in "poweroff" and then unplug the controller and power it off.
Step 8: Type in "exit" in the lighthouse_console.exe to exit out of the application and restart SteamVR. Make sure you do this even though you may still need to reflash another controller.
Your controller will now show up as a tracker in SteamVR and you can assign it as a role in the 'manage tracker' section of the SteamVR menu. It will also vibrate when you click 'identify tracker', which is nice.
Trackers are lighter and better for feet tracking but since lots of vive controllers will be put in the drawer once the Valve Index Controllers start shipping they could find a second life in feet tracking for more immersion. A few elastic bands around the controller and your shoe is enough to hold it quite securely.
Steam controller dongles are available on ebay for around £12, or directly from Valve.
Note
depending on the game you may need to use OpenVR Input Emulator to reorient the controller, like so.